RevivaFlake - flake flooring, an exciting interior floor product offering endless colour concepts with seamless flooring (no-grout-lines-look) using real paint flakes.
RevivaFlake is multicoloured chips in an unlimited range
of different blends in two sizes, large and small. When added with a
polymer base coat, top coat and sealer, it creates a durable,
unique and great looking flooring system.
Perfect for kitchens, garages,
activity rooms and
other internal
spaces.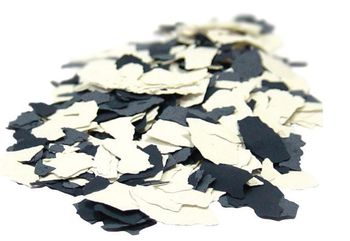 For a hardy, great looking surface use RevivaFlake flooring
Decorative paint flakes incorporated in seamless epoxy and polyurethane floor systems are a great alternative to other types of floor or wall coverings. The paint flakes are a colourful, tough, low maintenance, seamless, durable and
hygienic coating system for floors, walls and other surfaces for commercial, industrial and domestic areas.
RevivaFlake uses (Mastershield) polymer flooring an epoxy product that offers a tough, decorative, seamless, easy to clean, hygienic surface.
Seamless surface
Unlimited design ideas
Unlimited flake blends
Will not harbour bacteria
High resistance to wearing
Great for high traffic areas
Water Resistant
Dust resistant